THE PROBLEM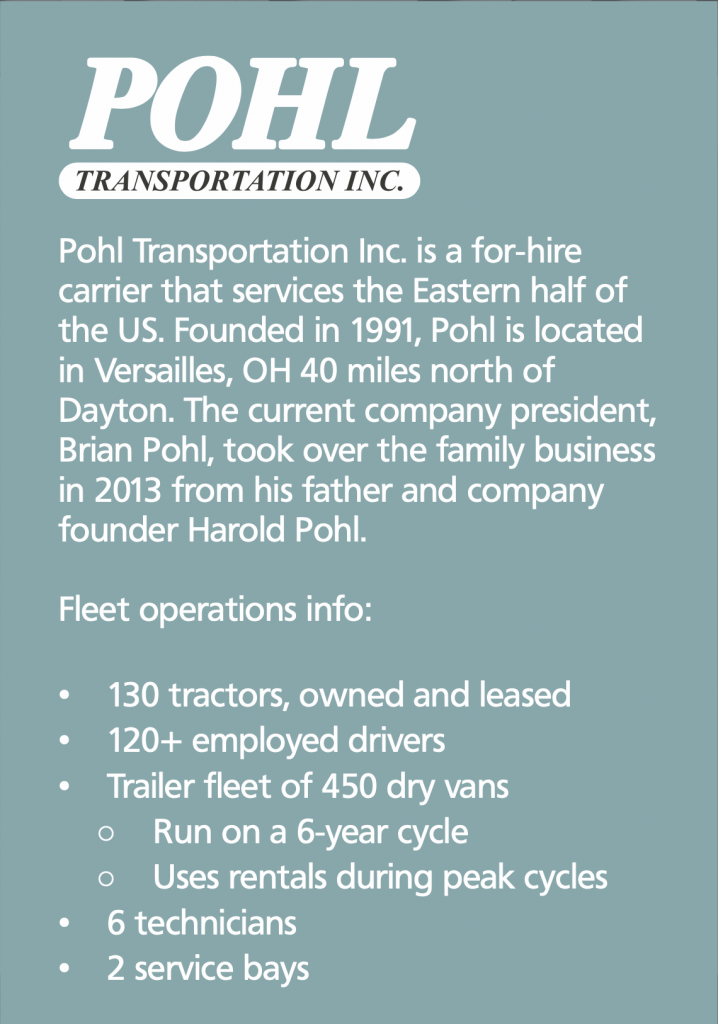 Pohl Transportation was struggling to maintain FHWA compliance with its semi-trailer fleet. They lacked the staff to maintain both power and trailer equipment and estimated an additional two mechanics would be needed to achieve and maintain trailer fleet compliance. With Pohl located in Versailles, Ohio—a town with a population of fewer than 2,600 people—finding new mechanics was proving to be a challenge. Additionally, operating out of a single location was increasing costs as empty trailers were transported back to the shop for repairs.
Pohl needed a resource that could manage trailer fleet compliance while allowing its existing mechanic workforce to focus on power units. With fleet compliance under 80% and D.O.T. fines on the rise, Pohl needed an outside resource to tackle past-due FHWAs and manage future PMs.
THE STAR LEASING SOLUTION
Forming a Plan
When the Star Leasing account manager was first informed of the compliance issue, Pohl Transportation's trailer fleet compliance rating was below 80%. Star Leasing proposed a partnership where all of Pohl's semi-trailer PMs and FHWA inspections would be managed by Star Leasing via its nationwide preferred vendor network. Pohl would also receive a dedicated Star Leasing account manager.
Star Leasing performed travel route and location assessment to identify routes and distribution centers that Pohl trailers frequented. Star Leasing then mapped out the existing compliance process and uncovered a logistical issue around scheduling off-site PMs with outside vendors. Lastly, Star Leasing analyzed maintenance records to identify a preventative maintenance cycle that would minimize large costly repairs.
Plan Execution and Results
Star Leasing identified strategic locations to create FHWA "hot spots," where a high volume of inspections could be completed by Star Leasing's nationwide network of vendors. Star Leasing also imported and organized Pohl's semi-trailer fleet data to improve compliance tracking and advanced PM scheduling.
Results were both immediate and sustained:
100% FHWA fleet compliance within 45 days of partnership with Star Leasing
Flat-lined maintenance and compliance expense throughout the year
Increased shop productivity by reduced staffing needs, allowing technicians to focus on power equipment and high impact repairs
Relieved the headaches of scheduling offsite repairs through their single shop location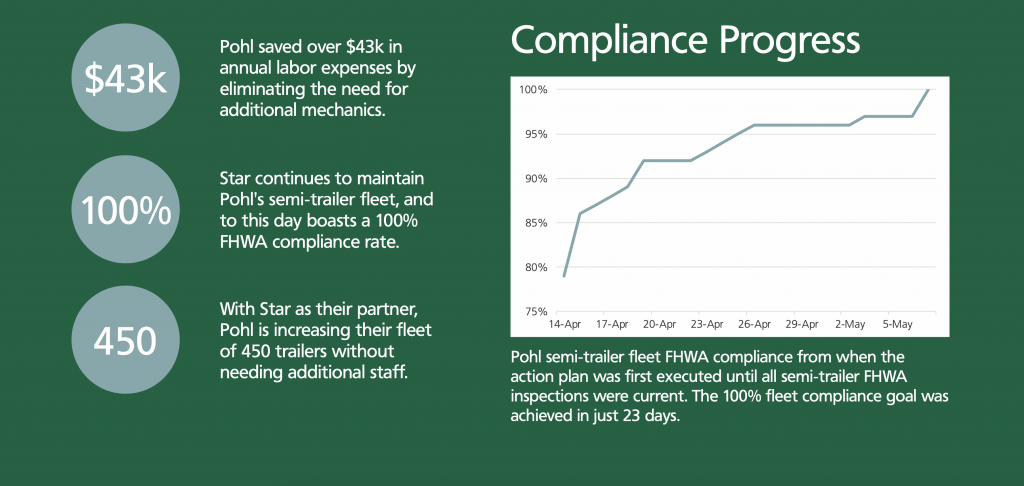 Ready to take your business to the next level?
GET STARTED