SECURELY ACCESS DATA WITH OUR CUSTOMER PORTAL
Do you have on-demand access to your semi-trailer fleet data? Our Secure Customer Portal provides easy access to your information anytime, anywhere. We believe that a partnership with Star Leasing should make it easier for you to run your business, and our portal provides you the data you need to make informed fleet decisions.
Are you ready to take control of your fleet data? Contact your account manager today to get started.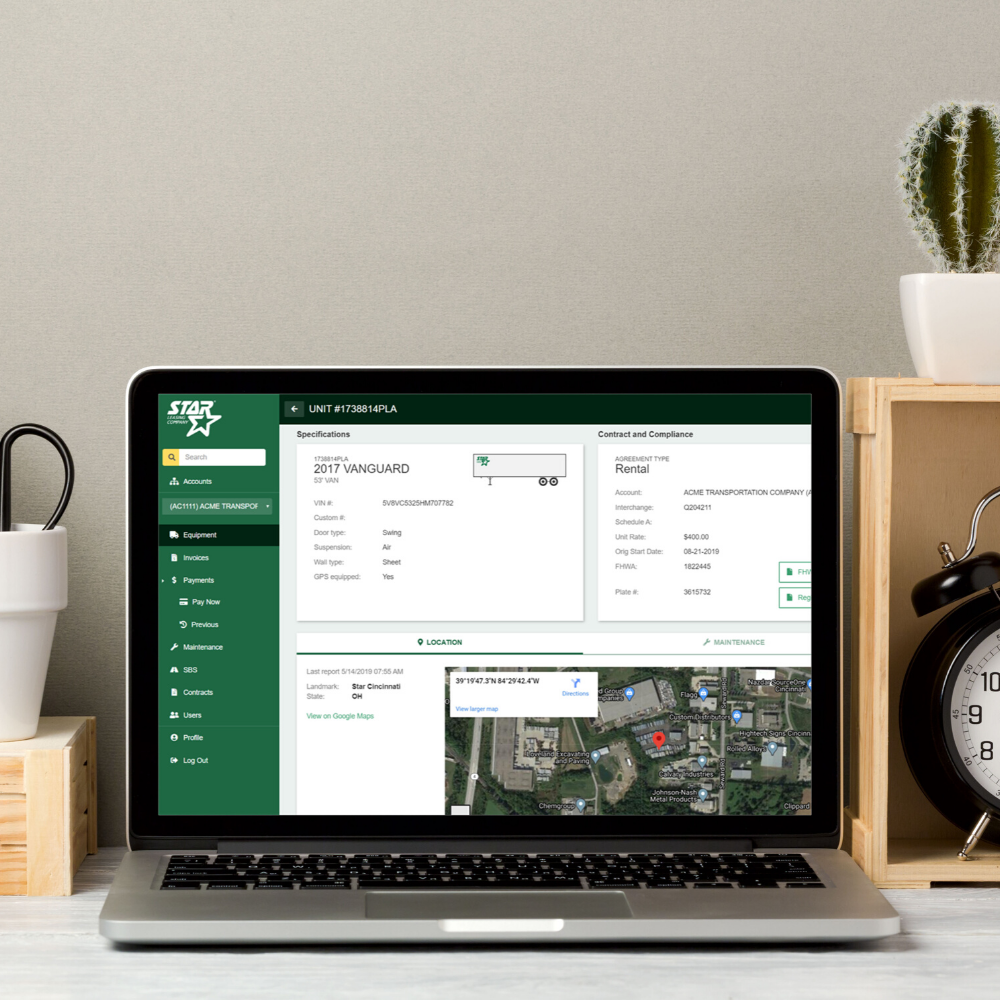 CUSTOMER PORTAL ADVANTAGES
Manage Fleet Data, Location and Documentation
Through our secure customer portal interface, you have the ability to view and export data on all the Star Leasing or contract maintenance units in your fleet. In addition, you can view GPS location, maintenance records for each unit, and download PDF copies of FHWA PMs and registrations. This is particularly useful if a manifest box or compliance document goes missing from the front of the trailer—just download a fresh copy!
Spend Less Time Maintaining Equipment Data
Your staff has more to do than looking around for maintenance documents. When all your data is located in one place—line item charges, job categories, dates, unit numbers, and more—your staff can easily find and analyze maintenance expenditures and trends. Through our secure customer portal, data is organized, searchable and customizable.
Maintenance data can be easily exported in a CSV file format that can be uploaded into your system or analyzed using our maintenance analyzer template. Looking at categorical maintenance spend over time can help you identify sudden changes in particular categories and evaluate how a trailer specification change as well as other fleet/operational modifications that are impacting your business.
Stay DOT Compliant
All PM inspections performed by Star Leasing are logged and uploaded to our secure customer portal. This information includes the last and next PM dates, as well as digital copies of PM forms that are stored using Amazon Web Services' secure cloud technology.
Maintaining PM compliance is key to preventing expensive over-the-road repairs and preventing insurance rate increases due to DOT write-ups on expired FHWA inspections.
Easily Access and Manage Invoices and Payments
A great feature of our secure customer portal is the online invoice payment option. This feature provides a quick and easy way to manage your account—no phones, envelopes, or fax machines required! You can view invoice details for paid, current and overdue invoices, and have official invoice digital copies sent directly to your email. Online payments allow you to pay multiple invoices at once and apply invoice credits. Payments are instantly applied to your account which means nothing gets stuck in "pending" limbo.
Understand How Over-the-Road Trailer Breakdowns are Impacting Your Business
The Star Leasing portal contains a specific section for maintenance and repairs managed by Star Breakdown Service. This section includes work-order line item details and supporting documentation such as images and vendor invoices.
This data can also be exported as an over-the-road service report that itemizes categorical expenses, breakdown locations, and caller information. If you already have a preferred business intelligence platform, the raw data can be exported to upload and analyze it in compatible systems.
Provide and Manage User Access to Information
During the development phase of our secure customer portal, one of the goals was to provide each client with the ability to manage its own account users. After Star Leasing sets up the initial administrator, account admins can add and remove users, as well as modify account access and content permissions.
Adding a team member to our secure customer portal is as simple as typing in their name and email address. Your team member will get an email with a link to set up a password then log in.
Keep Your Star Rental and Lease Contracts Organized and Easily Accessible
Trying to locate a lease document you filed away years ago can be tricky. To make things easier, our secure customer portal allows you to easily access all your master agreements, Schedule A files, and other associated documents. These files are securely housed using Amazon Web Services cloud storage technology.