Blog | Breakdown Service | Spotlights
Vendor Network Manager Tiffany Mizell has been a pivotal member of the Star Breakdown Service (SBS) team for the last eight months. While she has only been with the company for less a year, she possesses a wealth of knowledge and an extensive skillset with 23 years of industry experience. 
 As Vendor Network Manager, Tiffany is in constant contact with our current vendors to ensure our customers are well taken care of. In addition, she oversees the process of vetting out new vendor candidates to ensure they fit minimum SBS standards for our national preferred vendor network. 
In the past, Tiffany has worked as a Fleet and Equipment Maintenance Administration Manager and a Maintenance Software Solution Integration Project Manager,  which allowed her to garner extensive experience in fleet operations, maintenance management, ERP systems, and more. 
In her free time, the California native enjoys spending time with her family and dogs, painting furniture, reading, and making crafts. 
We are so pleased to have someone as determined and charismatic as Tiffany on our team! Keep reading to learn more about Tiffany's hobbies and interests: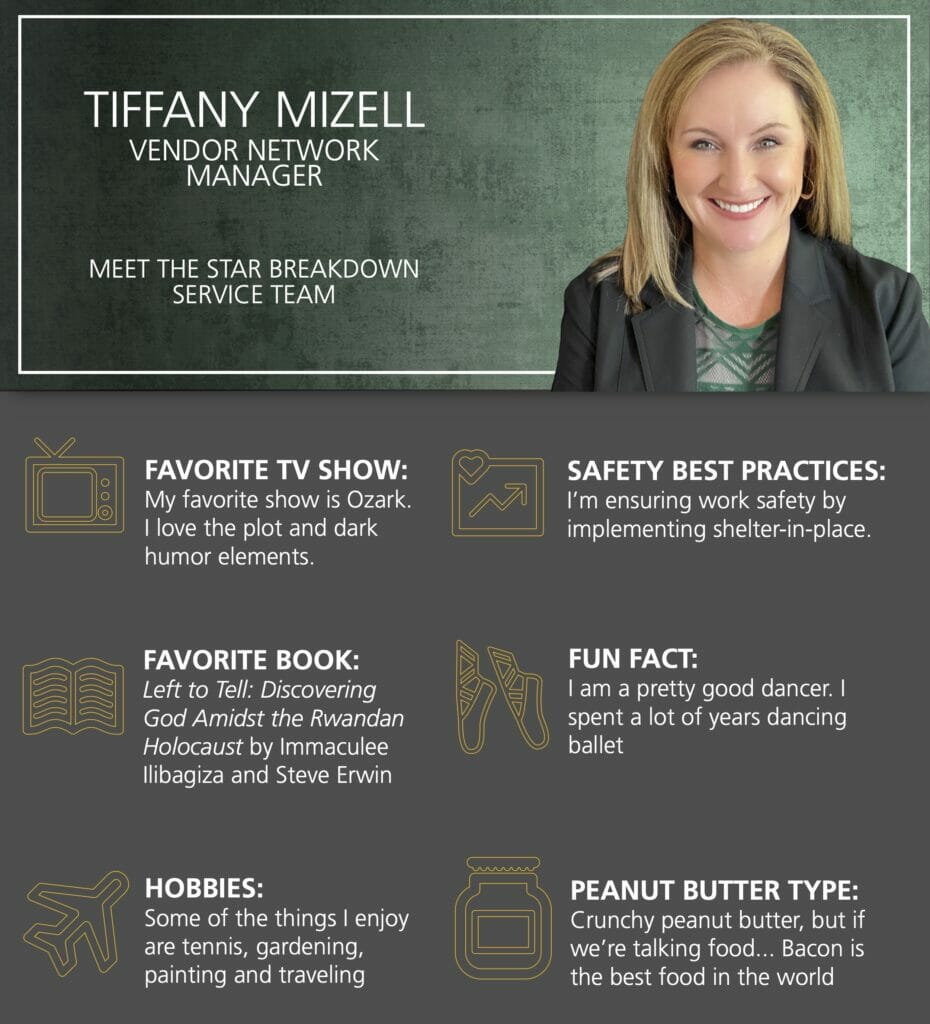 Q: How long have you been working at Star Breakdown Service?
A: I've been working at Star Leasing as the Vendor Network Manager for eight months. However, while I've only been at SBS for under a year, I have over two decades of experience in the industry.
Q: What's your industry experience in years?
A: I have over twenty-three years of experience in the industry. Throughout my career, I've worked as a Fleet and Equipment Maintenance Admin Manager and Maintenance Software Solution Integration Project Manager.
Q: What's your favorite show or book? Or both?
A: My favorite show is Ozark! I like it because of its dark humor, and because it's very suspenseful. And I don't have a favorite book, but I did read a book recently that moved me. It was Left to Tell: Discovering God Amidst the Rwandan Holocaust by Immaculee Ilibagiza and Steve Erwin.
Q: What are your hobbies?
A: My hobbies include tennis, gardening, painting, and traveling. Some of my favorite places to visit are Vancouver, British Columbia, Canada, and South Korea – I had a blast when I went for the Winter Olympics.
Q: What are the three words that best describe you?
A: I would describe myself as driven, energetic, and competitive.
Q: What's your favorite part of your job?
A: One of my favorite things about my job is the ability to work with a variety of different people and have a wide range of responsibilities.
Q: How are you ensuring work safety?
A: I'm always trying to ensure work safety but right now due to COVID-19 I'm doing so by implementing shelter in place.
Q: What's something people may not know about you?
A: Most people don't know what I'm a good dancer – I spent a lot of years practicing ballet. Besides that, most people don't know that I like watching documentaries and in the past, I've finished three months of Insanity.
Q: What type of peanut butter do you prefer? Crunchy or Creamy?
A: Probably crunchy, but my peanut butter preference depends on if I'm eating it with bananas, a pb&j sandwich, or with honey! However, if we're talking food – bacon is the best food in the world!
To learn more about the Star Breakdown Service team or about our Preferred Vendor Network Program, stay tuned on our blog, or click the buttons below.