Blog | Breakdown Service | Spotlights | Star Leasing
Panama-native Teresa Arrue has been with the Star Breakdown Service (SBS) team for a year and a half. Before stepping into her role as Customer Service Representative (CSR), Teresa spent a little over a month training as an Incident Coordinator in order to learn the inner workings of SBS and Star's Branches. In her CSR role, Teresa serves as a liaison between the branches, SBS and our customers—assisting with customer questions, resolving billing/invoice disputes, and more.
Prior to working at SBS, Teresa worked at a similar transportation company, specializing in their emergency breakdown service. In her previous role, she dispatched, coordinated and handled thousands of breakdown events throughout the United States and Canada. Teresa has held several other customer success roles while completing her bachelor's degree at Clayton State University where she studied Marketing and French. Teresa's communication skills, bubbly personality and eclectic background make her an asset to the SBS team! Keep reading to learn more about her.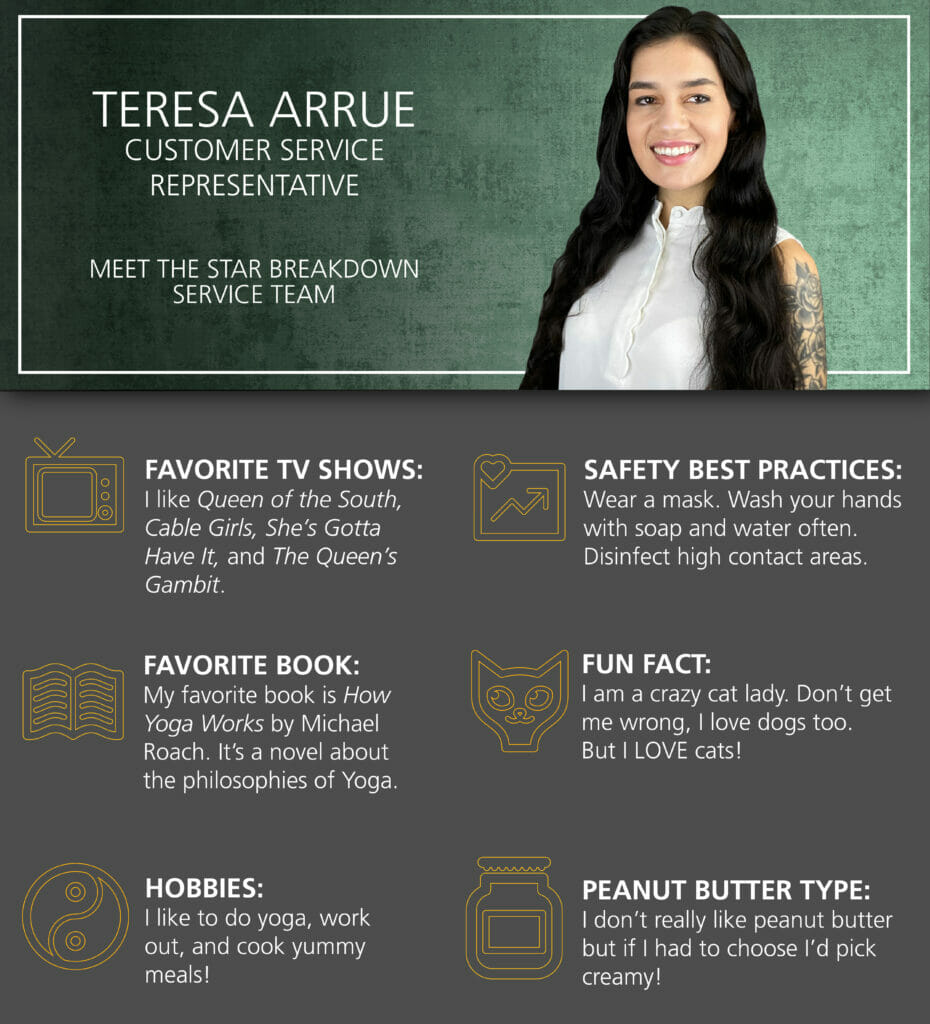 Q: How long have you been working at Star Breakdown Service (SBS)?
A: I've been with Star Leasing for about a year and a half.
Q: Tell us about your industry experience?
A: I have about three years of experience in the transportation industry. Prior to my position at Star Breakdown Service, I was a Customer Care Representative for a similar company in the industry that provided emergency breakdown assistance for customers with power and pulling equipment.
Q: What's your favorite show?
A: I watch many shows from all different genres ranging from fantasy, science fiction, drama, and telenovelas. I don't have a favorite show but some shows I enjoyed watching were: Watchmen, Lovecraft Country, She's Gotta Have It, Queen of the South, Raised By Wolves, Elite, La Casa de Papel, Las Chicas del Cable, The Queen's Gambit, Away, Another Life, should I continue…?
Q: What's your favorite book?
A: My favorite book is How Yoga Works by Michael Roach. It's a novel that sets out to teach the core of the philosophies of the Yoga Sutra. I read this book when I was completing my undergraduate degree at Clayton State University. At the time, I was training and completing my certification to become a yoga instructor at my university. This book is highly recommended for yoga teacher training, and it gave me a lot of inspiration.

Q: What TV or movie character do you see yourself as?
A: I see myself as Ilana Glazer from the show Broad City. Ilana is free-spirited, enthusiastic, energetic and creative. She is a classic ENFP personality type according to the Myers-Briggs Indicator.
Q: What's something interesting about you?
A: I'm into astrology, modern witchcraft, crystals, tarot, and numerology! I'm a very spiritual person and my interest in spirituality has peaked in recent years. Another thing I absolutely need people to know about me is that I LOVE CATS.
Q: What are your hobbies?
A: My hobbies are working out, practicing yoga, and cooking. Before Covid-19 was a thing, my hobbies included traveling, going to art museums, and attending shows of my favorite DJs.
Q: What are three words that best describe you?
A: I think three words that would best describe me would have to be, empathic, courageous and authentic.
Q: What's your favorite part of your job and why?
A: I enjoy learning and growing together as a team with my colleagues. I love helping others, which is what SBS is all about!
Q: How are you ensuring work safety?
A: I'm doing my best to maintain a healthy lifestyle by exercising, eating healthy, and doing things to boost my vitamin C intake. I'm also ensuring work safety by wearing a mask when out in public, limiting my activities in public altogether, and washing my hands, and disinfecting high contact areas frequently.
Q: What's something people may not know about you?
A: Something people may not know about me is that I did ballet for about a decade of my life right before college. I was "on pointe" and performed in many plays like The Nutcracker and Swan Lake.
Q: What type of peanut butter do you prefer? Crunchy or Creamy?
A: I'm not crazy about peanut butter but if I had to choose… I prefer creamy peanut butter!
Q: Where are you from?
A: I was born in Panama like my Mom but I'm part Cuban from my Dad's side.
To learn more about the Star Breakdown Service team, or services we offer, stay tuned on our blog or click the buttons below.