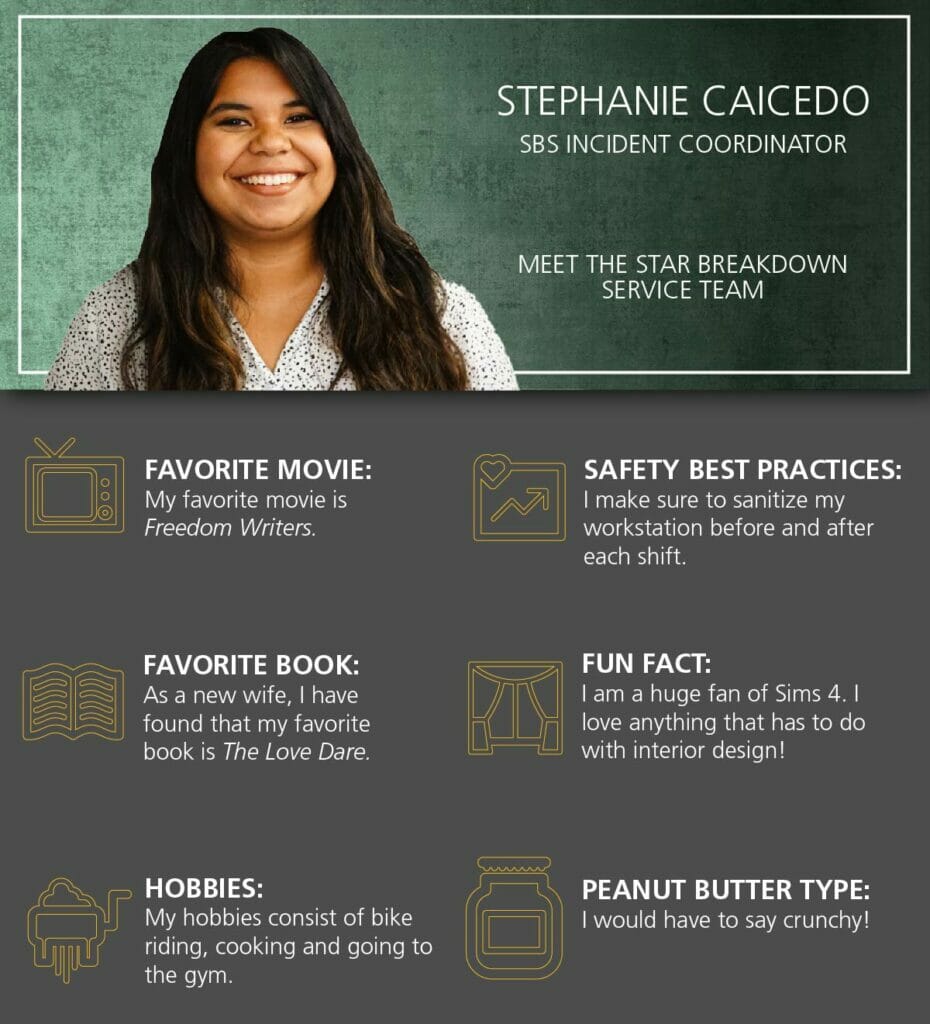 Stephanie Caicedo joined the Star team about three months ago. Working at Star is Stephanie's first experience working for a company that specializes in transportation. Prior to joining the team, she worked in sales and retail, which has assisted her in building skills in customer service, time management, problem-solving, and organization–all of which are beneficial to her role as a Star Breakdown Service (SBS) Incident Coordinator.
Stephanie brings a plethora of skills to SBS, and we are lucky to have her as a team member!
What's your favorite show or movie and who's your favorite character?
My favorite movie is Freedom Writers. My favorite character in this movie is Erin Gruwell. I love that this movie is based on a true story. It has a great message, and I've always enjoyed watching it with my older brother.
What's your favorite book?
As a new wife, I have found that my favorite book is The Love Dare.
What are your hobbies?
My hobbies consist of bike riding, cooking, and going to the gym.
What are three words that best describe you?
Outgoing, industrious, and reliable.
What's your favorite part of your job and why?
I really enjoy the big picture of my job. I love that I have the opportunity to directly help someone every day. I'm most satisfied when our drivers advise how appreciative they are of our services. This keeps me motivated throughout our hectic days.
What do you like to do in your free time?
I LOVE to listen to music in my free time. My parents are musicians; therefore, music has always played a big part in my life. I have never been one to sit in silence.
How are you ensuring work safety?
I make sure to sanitize my workstation before and after each shift. I also wash my hands constantly and remain socially distant from my coworkers.
What's something people may not know about you?
People may not know that I am a huge fan of Sims 4. I love anything that has to do with interior design. I discovered the Sims 4 when I was in eighth grade. I was fascinated with the "build mode" feature instantly!
If you could meet anyone, living or dead, who would you meet?
I would love to meet Selena Quintanilla, Jenny Rivera, Scarlett Johansson, Adam Sandler…the list goes on and on!
If you could learn a new skill, what would it be?
I would love to learn how to code properly. I took a programming course two semesters ago and really took a big interest in it. It was one of the most difficult courses ever, but it was also one of the most rewarding.
What type of peanut butter do you prefer? Crunchy or creamy?
Wow, what a tough question. I would have to say crunchy!