Breakdown Service | Spotlights | Star Leasing
New York native, Peter Warlock, has been with Star Breakdown Service (SBS) for almost two years. Before fulfilling the role of Incident Coordinator for SBS, Peter gained experience in multiple positions with similar companies in the industry. His expertise provides SBS with knowledge of the industry and compassion for what he does. Aside from working, he enjoys photography, cooking, and fixing things! We are pleased to have Peter on our team as he is kind, friendly, and easy-going. Continue reading to find out more about Peter Warlock.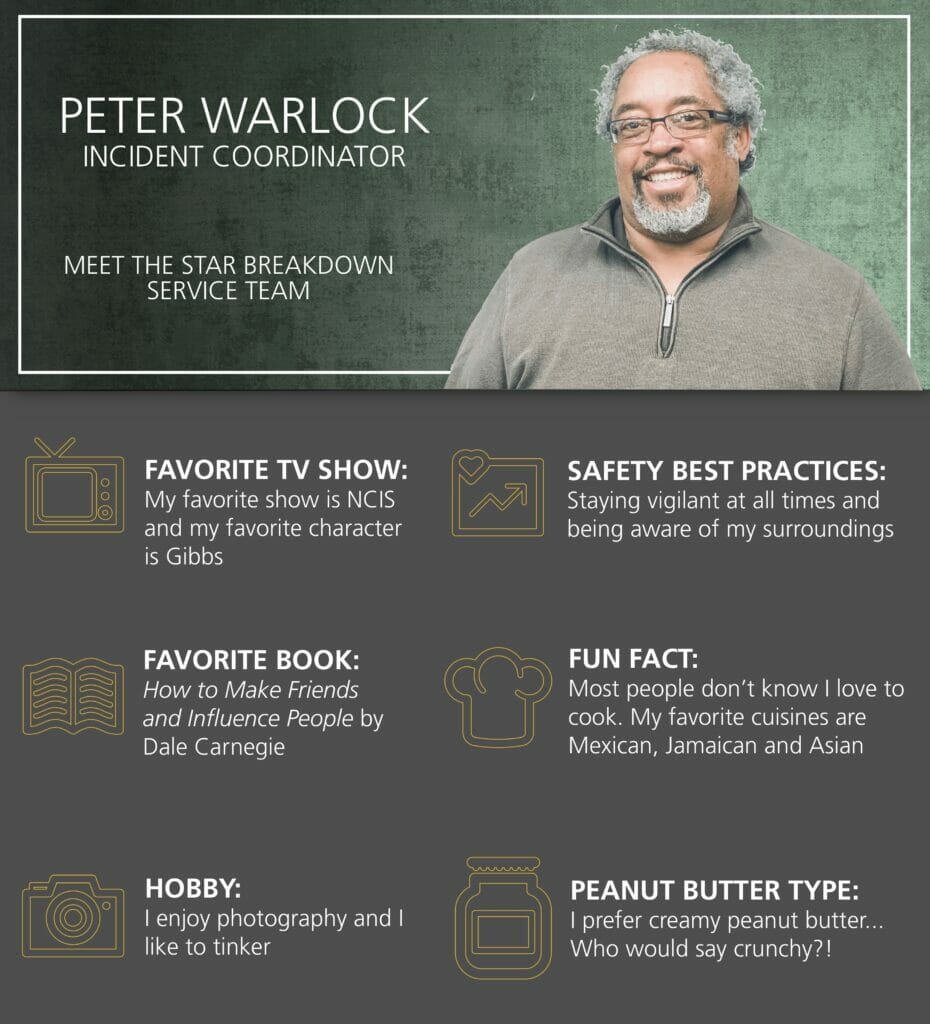 Q: How long have you been working at Star Leasing?  
A: I've been working at Star Leasing as a Star Breakdown Service coordinator for almost two years.
Q: What's your industry experience in years?
A: My experience in the industry can be summed up to over ten years.
Q: What's your favorite show or book? Or both?
A: My favorite show is NCIS, I love seeing how Gibbs and his team come together to resolve problems. My favorite book is How To Make Friends And Influence People by Dale Carnegie.
Q: What are your hobbies?
A: My hobbies include photography and I like to tinker with different electronic devices.   
Q: How would you describe yourself?
A: I would describe myself as always willing to help.
Q: What's your favorite part of your job?
A: My favorite part of my job is that I get to help people.  
Q: How are you ensuring work safety?
A: I try to be vigilant at all times and be aware of what is going on around me. 
Q: What's something people may not know about you?
A: I like to cook! I like to cook Jamaican, Asian, and Mexican cuisine. 
Q: What type of peanut butter do you prefer? Crunchy or Creamy?
A: I prefer creamy peanut butter, duh!
To learn more about the Star Breakdown Service team or the services we provide, stay tuned on our blog, or click the button below.