Blog | Breakdown Service | Spotlights | Star Leasing
 Our Sunshine-State-born Account Manager, Reginald Griffin, has been with Star Breakdown Service (SBS) for two years. While he hasn't been part of our team for many years, he brings a plethora of experience in the maintenance and repair industry.
 Prior to working at SBS, Reginald served as a mechanical engineer in the U.S Navy for 20 years. After retiring from the military, he spent the following seven years as a maintenance coordinator team lead in a similar over-the-road breakdown management company.
 As our Account Manager, he dedicates his day to setting up Preventative Maintenance (PM) and Federal Highway Administration (FHWA) inspections for our contract maintenance trailers through our national vendor network. In his role, Reginald successfully assists clients with Department of Transportation (DOT) compliance, saving capital, and extending equipment lifecycle.
Reginald's extensive experience in equipment maintenance and management, as well as his fun, well-rounded personality make him a fantastic addition to the SBS team. Keep reading to learn more about him.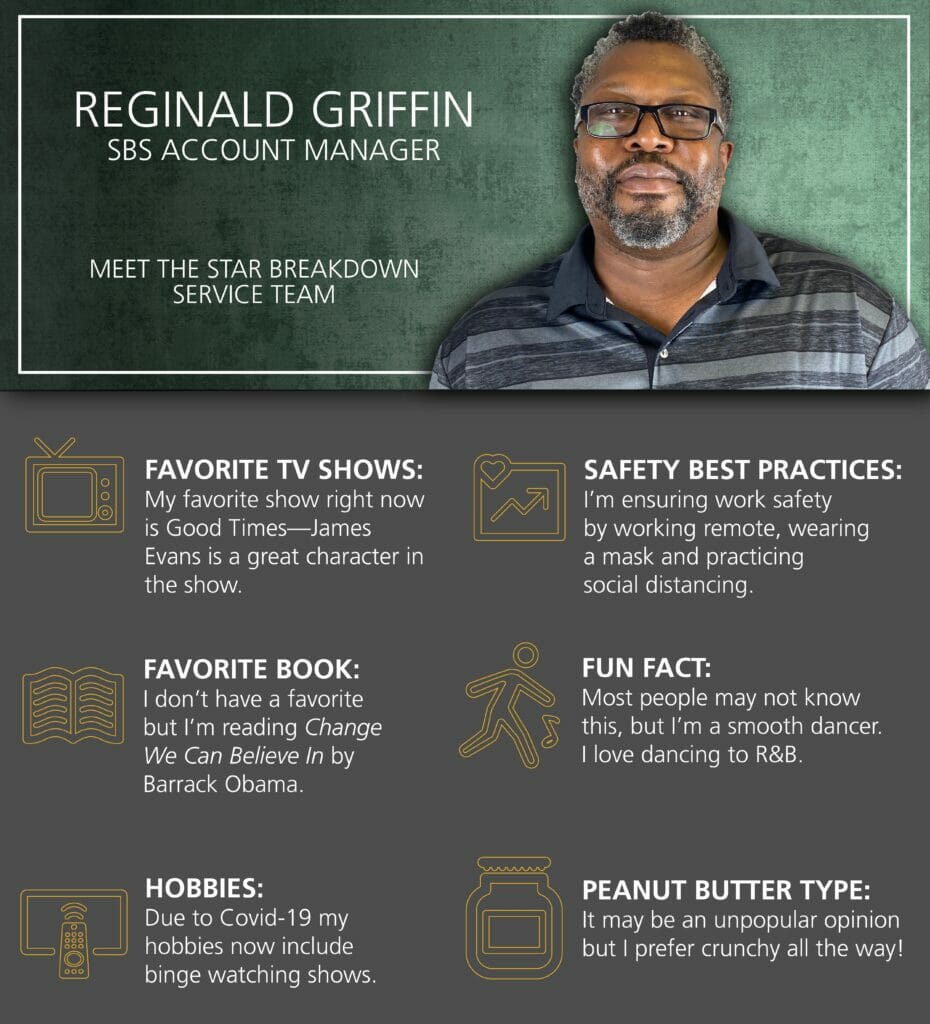 Q: How long have you been working at Star Breakdown Service (SBS)?
A: I've been working at Star Breakdown Service for almost two years but have over two decades of experience managing maintenance for various types of equipment.
Q: Tell us about your industry experience?
A: I served in the Navy for 20 years, where I acquired experience in working on diesel engines, various high/low powered air compressors, lube oil purifiers, galley equipment, you name it. After retiring from the Navy, I went on to work for a similar breakdown service industry coordinator maintenance for tractors and pulling equipment. I was there for two years, then I began at SBS.
Q: What's your favorite show, who's your favorite character, and why?
A: My favorite show right now is Good Times. My favorite character is named James Evans,  because he's a hard-working father and really strict on the kids but loved his family.
Q: What's your favorite book?
A: I don't have a favorite book, but I am reading one that I am enjoying so far. It is called Change We Can Believe In written by Barack Obama.
Q: What are your hobbies? 
A: Due to Covid-19 my hobbies have shifted a bit. My hobbies include binge watching different shows on Netflix. Some shows I really enjoyed watching were Ozark and 4400.
Q: What are three words that best describe you? 
A: Funny, Hardworking, Trustworthy
Q: What's your favorite part of your job and why?
A: My favorite part of my job is helping our customers when they need assistance. Being able to help people makes me feel good at the end of the day.
Q: What do you like to do in your free time?
A: In my free time, I enjoy relaxing and watching sports or Netflix. My favorite sports teams are the Dallas Cowboys, Washington Nationals, and Houston Rockets!
Q: How are you ensuring work safety? 
A: I'm ensuring work safety by working from home and practicing social distancing as well as wearing a mask whenever I go out to run errands.
Q: What's something people may not know about you?
A: People may not know it, but I'm a smooth dancer. RnB music is my vibe to dance to. 
 Q: What type of peanut butter do you prefer? Crunchy or Creamy? 
A: I prefer crunchy all the way!
To learn more about the Star Breakdown Service team, or services we offer, stay tuned on our blog or click the buttons below.