Blog | Breakdown Service | Spotlights | Star Leasing
Incident Coordinator Michael Thomas has been with Star Leasing for about eight months now. Michael brings us over 25 years of experience in the transportation industry, including experience as a fleet mechanic, road technician, and prior to Star, working for a similar breakdown service company. Michael is originally from Cardiff, South Wales, and has lived in several UK and abroad cities. At one point, Michael lived in the British Virgin Islands for four years, where he worked on all types of power and sailboats.
We are so pleased to have Michael Thomas on the SBS team! His eclectic background and extensive industry make him a tremendous asset for the SBS team!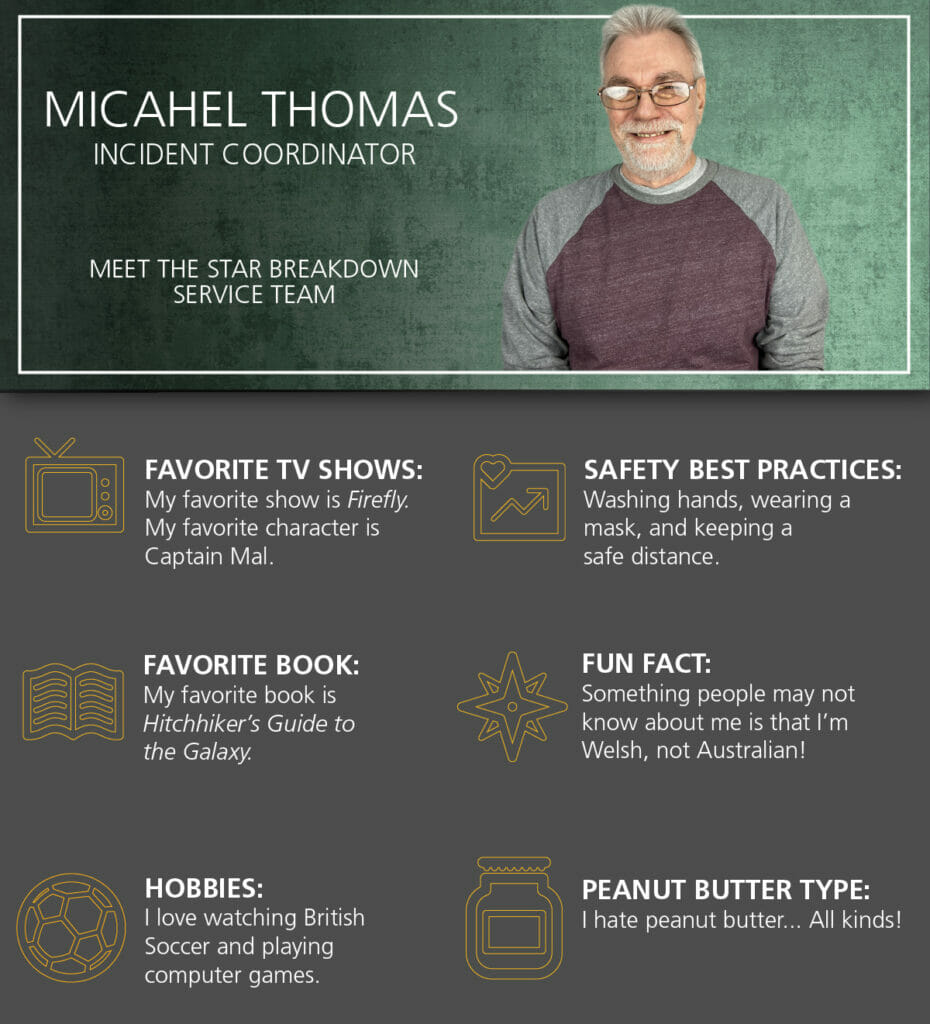 Q: How long have you been working at Star Breakdown Service (SBS)?
A: I've been working with Star Leasing for eight months.
Q: Tell us about your industry experience?
A: I have over 25 years of experience in the industry.
Q: What's your favorite show?
A: My favorite show is Firefly. My favorite character is Captain Mal.
Q: What's your favorite book?
A: My favorite book is Hitchhiker's Guide To the Galaxy.
Q: What are your hobbies? 
A: I love watching British Soccer and playing computer games. My favorite teams are Arsenal and my hometown team, Cardiff City.
Q: What are three words that best describe you? 
A: The three words I'd use to best describe me would be open, easygoing, friendly.
Q: What's your favorite part of your job and why?
A: My favorite part of my job is listening to the gratitude of the drivers when we get them rolling.
Q: How are you ensuring work safety? 
A: I'm ensuring work safety by washing my hands, wearing a mask, and maintaining social distancing.
Q: What's something people may not know about you?
A: Something people may not know about me is that I'm Welsh, not Australian…
Q: What do you like to do in your free time?
A: In my free time I like relaxing and spending time with my wife and son. I've been married for 30 years and still very happy.
Q: If you could have any superpower, what would it be? 
A: If I could have any superpower, the ability to fly would be my choice.
Q: What type of peanut butter do you prefer? Crunchy or Creamy? 
A: Eww….peanut butter! 
To learn more about the Star Breakdown Service team, or services we offer, stay tuned on our blog or click the buttons below.