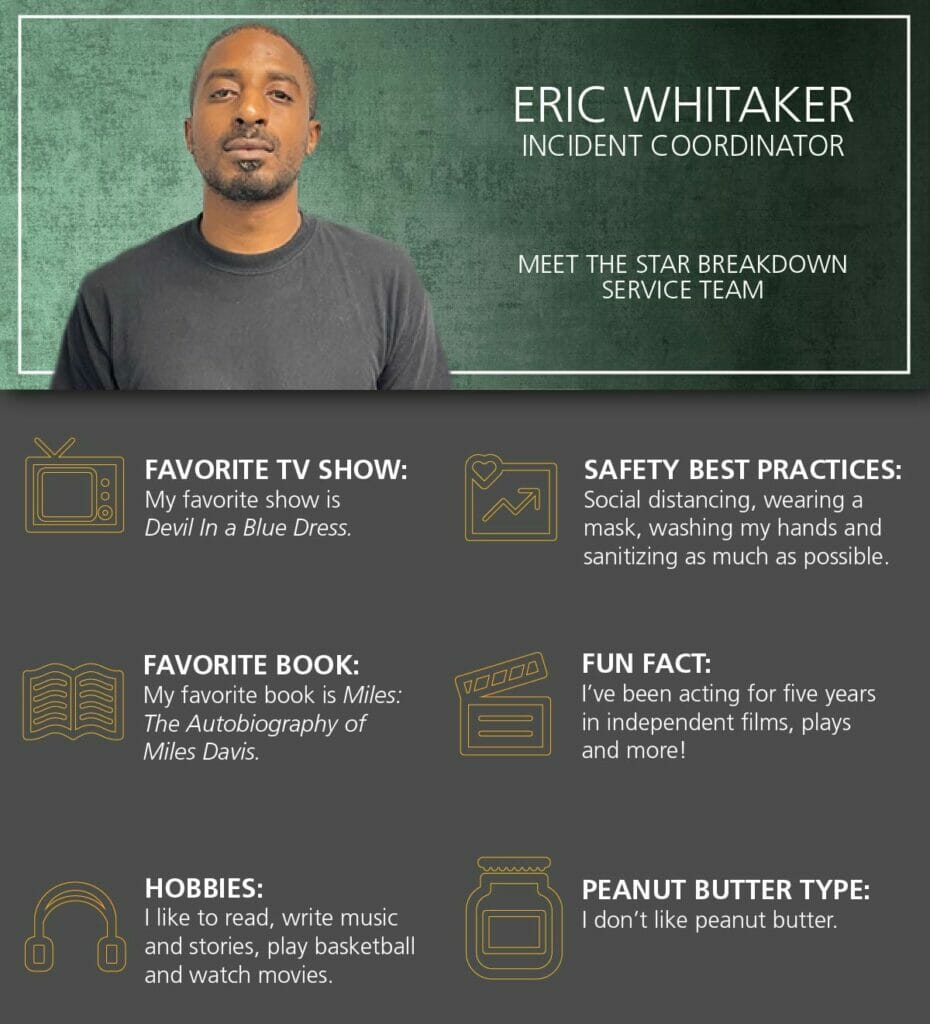 Eric Whitaker, an incident coordinator for Star Breakdown Service, joined the Star team about two and a half years ago and has been working in the transportation/logistics industry for seven years. His experience in the industry brings numerous advantages to the SBS team.
We're happy to have a team member like Eric working at SBS, keep reading to learn more about him!
What's your favorite show or movie and who's your favorite character?
Devil in a Blue Dress. The character Easy Rawlins played by Denzel Washington is my favorite. I appreciate how he manages to do a whole lot with the little that he's given. He's able to use his whits and his surroundings to survive and achieve whatever goal he needs to achieve.
What's your favorite book?
Miles: The Autobiography of Miles Davis.
What are your hobbies?
I like to read, write music and stories, play basketball and watch movies.
What are three words that best describe you?
Determined, loyal, consistent.
What's your favorite part of your job and why?
I enjoy the interaction with drivers from across the country. It's interesting to encounter the different personalities, no matter how brief the conversations may be.
What do you like to do in your free time?
In my free time, I like spending time with my family, playing basketball, and working on music.
How are you ensuring work safety?
I ensure work safety by being aware of social distancing, wearing a mask, washing my hands and sanitizing as much as possible.
What's something people may not know about you?
I have been acting for about five years in independent films, plays and more.
If you could meet anyone, living or dead, who would you meet?
I would love to meet Muhammad Ali.
If you could learn a new skill, what would it be?
I would like to learn how to weld.
What type of peanut butter do you prefer? Crunchy or creamy?
I don't like peanut butter!