Blog | Breakdown Service | Spotlights | Star Leasing
Incident Coordinator Hans Gervais has been with Star Breakdown Service (SBS) for 18 months. Hans was born in Haiti and came to the United States at a young age which is why he can speak Creole, English, and French—"in that order", he adds. After high school, Hans joined the U.S. Navy, spending 4.5 years as an Aviation Boatswain Equipment Mate. After retiring from the Navy, Hans' sisters, who worked for a transportation and supply chain products provider, introduced him to the industry. Hans worked at that company for five years prior to joining the SBS team as one of our Incident Coordinators. In his spare time, Hans enjoys watching anime, tv shows, and movies—he particularly enjoys all things Sci-fi, including Star Wars and Star Trek.
We are pleased to have Hans on our team as he not only brings a wealth of experience to our team, but he also has a talent for making the entire team laugh with his outgoing, hilarious, and witty personality! Keep reading to learn more about Hans.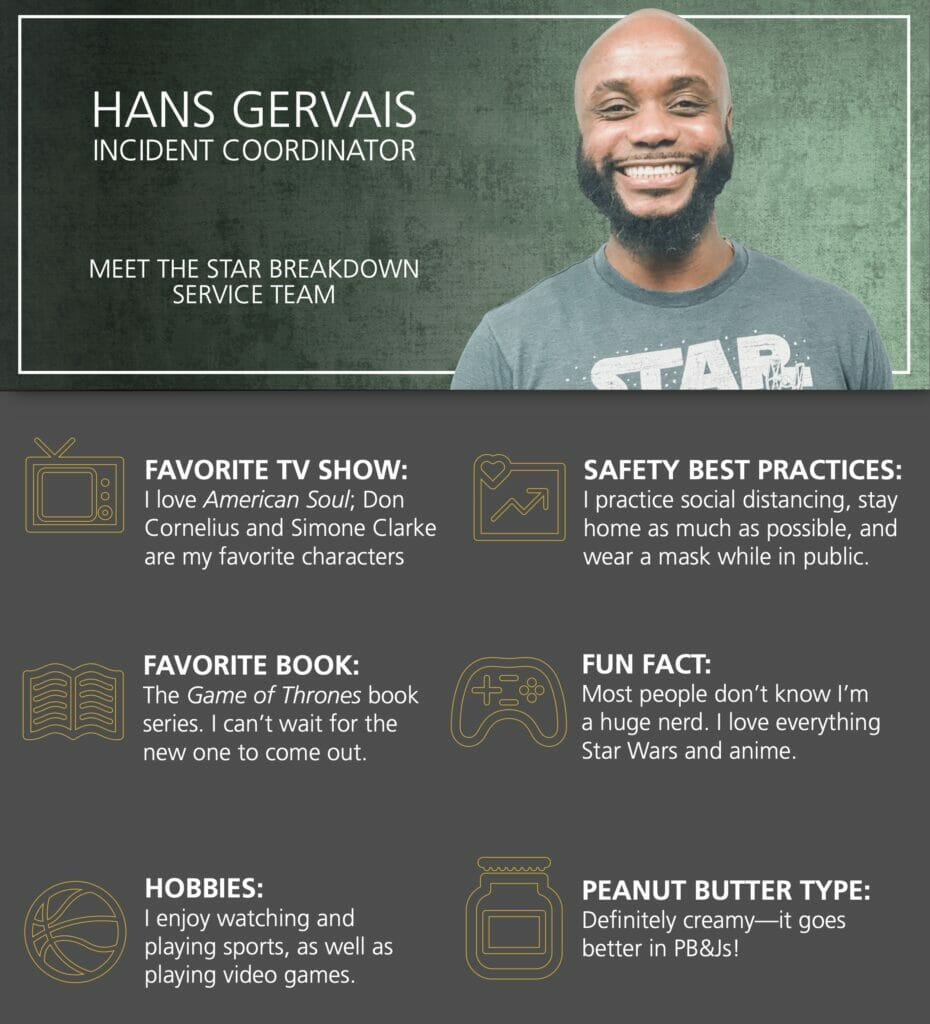 Q: How long have you been working at Star Breakdown Service? 
A: I've been working at Star Breakdown Service for about 1.5 years, but I have over five years of industry experience. 
Q: What's your favorite show?
A: I love the show American Soul. Don Cornelius and Simone Clarke make the show in my opinion—they're my favorite characters. 
Q: What's your favorite book?
A: I loved reading the Game of Thrones book series—Jon Snow and Daenerys Targaryen are my favorite storylines and characters. I'm still waiting on George R. R. Martin to finish the other books so I'm currently rewatching the tv adaptation.
Q: What are your hobbies? 
A: I enjoy watching and playing sports—especially basketball. Besides sports, I enjoy playing video games. One of my favorite games is God of War. I play the 2018 version every once in a while—at least until a new one comes out. 
Q: What are three words that best describe you? 
A: I would describe myself as outspoken, hard worker, laid back.
Q: What's your favorite part of your job?
A: My favorite part of my job is providing good customer service and helping drivers get safely and efficiently back on the road.
Q: How are you ensuring work safety? 
A: I'm ensuring work safety by practicing social distancing, staying home a lot, and wearing a mask whenever I'm in public.
Q: What's something people may not know about you?
A: Most people don't know I'm a huge nerd…at least I don't think people know! I love watching anime and all things Sci-fi—especially Star Wars and Star Trek.
Q: What do you like to do in your free time?
A: My favorite thing to do in my free time is watching movies and binging on tv shows. Right now I've been rewatching Game of Thrones but I also like checking out new shows. Any recommendations?
 Q: What type of peanut butter do you prefer? Crunchy or Creamy? 
A: I prefer creamy, it goes better with PB&Js!
To learn more about the Star Breakdown Service team, or services we offer, stay tuned on our blog or click the buttons below.