Blog | Breakdown Service | Spotlights | Star Leasing
SBS Program Manager Eric Borland is in charge of implementing and creating processes for the team, employee onboarding, coaching, and training. He also manages the day-to-day operations within the call center to ensure each breakdown gets handled smoothly. Eric leads with enthusiasm, positivity, and charisma.
Eric is originally from Memphis, Tennessee but grew up in Georgia. While he's been with Star Leasing for about a year and a half, he has nearly eight years of experience in supervisor and management roles. In the past, Eric has worked as a supervisor for a major auto finance company. There, he gained substantial experience in developing solutions and policies to improve internal processes. Eric brings SBS a wealth of knowledge in dealing with all different business departments, from customer service to collections to internal personnel communications.
Eric enjoys spending time with his family in his free time, watching sports, playing poker, and playing golf!
We love having someone as down to earth, positive, and outgoing as Eric on our team! Keep reading to learn more about Eric's hobbies and interests.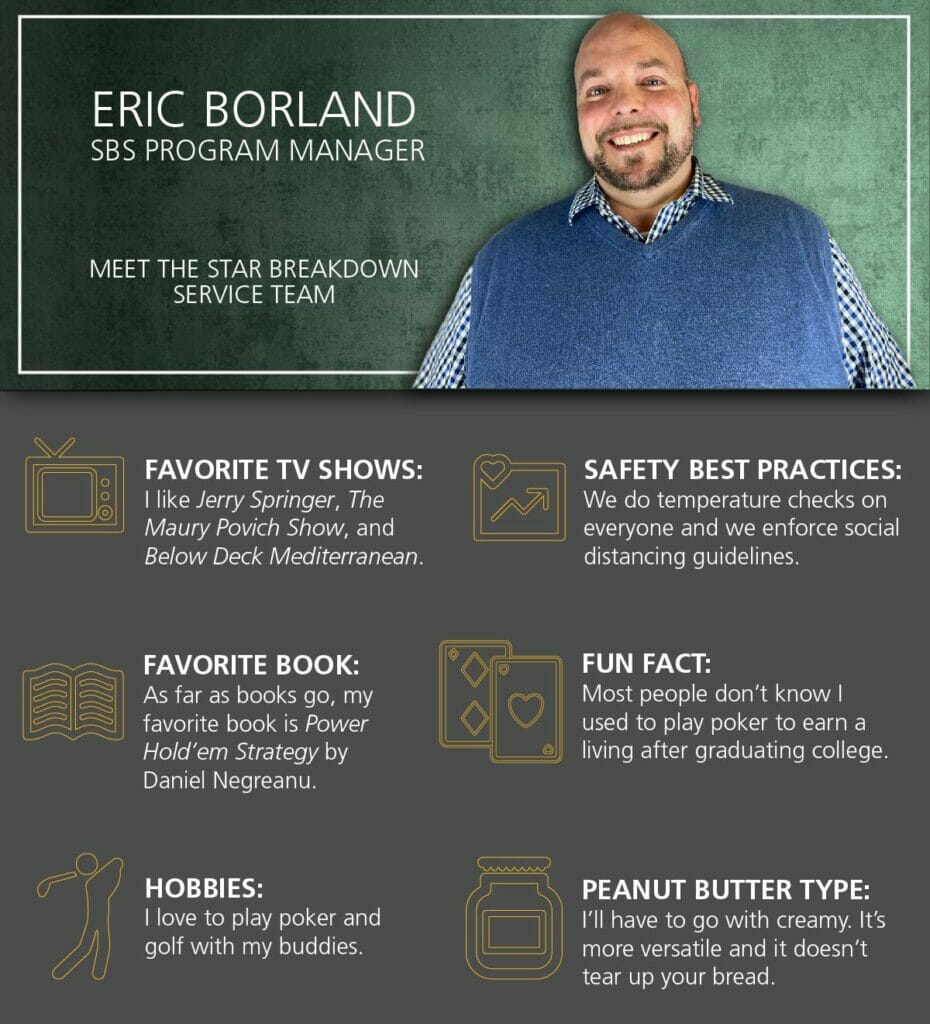 Tell us about your industry experience?
I have almost a decade of experience as a supervisor in a call-center-style workplace. Previous to Star, I was with a major auto finance company and supervised everything from customer service to collections.
What's your favorite show?
I have an affinity for trashy TV shows. They're my guilty pleasure. I like Jerry Springer, the Maury Povich Show, and Below Deck Mediterranean. On the flip side, I also watch Jeopardy and Wheel Of Fortune. Most nights, I do pretty well. I'm sure I have everyone confused by now… Life is all about duality people!
What's your favorite book?
As far as books go, my favorite book is Power Hold'em Strategy by Daniel Negreanu—it's a poker book.
What are your hobbies? 
I love to play poker and golf with my buddies. I also have a 15-year old son that plays high school football, so I stay pretty busy with that—I enjoy attending his games.
What are three words that best describe you? 
Three words that best describe me would be outgoing, smart, and caring. At least that's what my wife says.
What's your favorite part of your job?
My favorite part of my job is working with my team and vendors to figure out solutions to complex breakdowns to make our customers happy.
How are you ensuring work safety?
We have several precautions in place right now to ensure work safety. We do temperature checks on everyone that comes in the door and have spaced out all of our work stations to maintain social distancing guidelines.
What's something people may not know about you?
Most people don't know I played online poker to earn a living for about six months after graduating from college. I did this until my mom told me to get a "real job" with my degree. Another thing most people don't know about me is in 2011, my best friend and I started a hot sauce business. Our products wound up in about 300 retail locations before we sold the company. It was a fun ride.
What type of peanut butter do you prefer? Crunchy or Creamy? 
I'll have to go with creamy. It's more versatile and doesn't tear up your bread when making a PB&J.
To learn more about the Star Breakdown Service team, or services we offer, stay tuned on our blog or click the buttons below.