Blog | Breakdown Service | Spotlights | Star Leasing
Senior Account Executive Don Lunardini joined the Star Breakdown Service (SBS) team about a month ago to oversee a few different markets and target key strategic accounts specific to Star Breakdown Service.
Although Florida-native Lunardini joined our team only a month ago, he possesses over 20 years of experience and brings a plethora of extensive sales experience and industry knowledge.
Don's expertise spans the automotive and trucking industries in the United States, Canada, and the Bahamas. His focus lies in raising the profile of diversified products that minimize maintenance costs, which benefits fleet spending and highway safety. Don is committed to providing sophisticated and customer-centric solutions that provide the most significant value and quality.
We're pleased to introduce Don Lunardini and have him on our team!
Keep reading to learn more about him.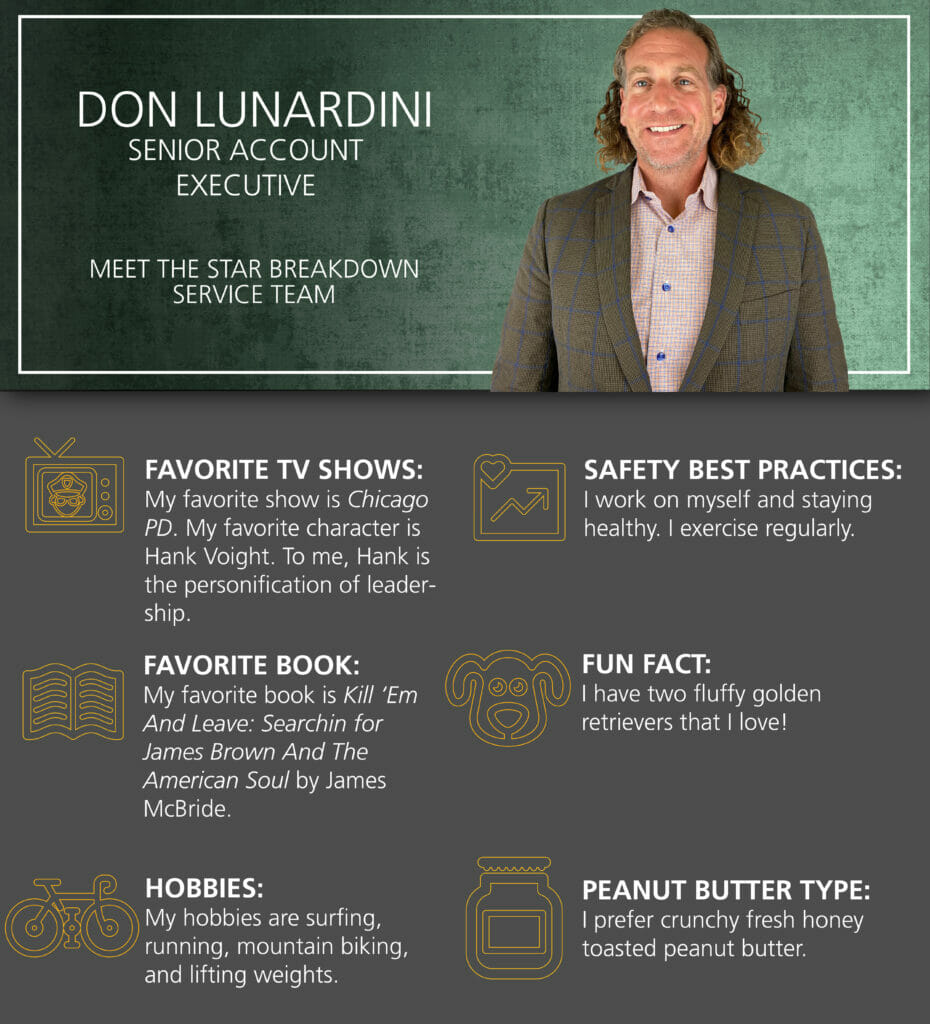 Q: How long have you been working at Star Breakdown Service (SBS)?
A: I have been with Star Breakdown Service for about a month. 
Q: Tell us about your industry experience?
A: I have a little over two decades of experience in the trucking industry where I've held multiple sales manager positions. In my most recent role, I was the Zone Operations Manager at Michelin. I was responsible for 24,000 buses across the United States and Canada on a cost per metric lease program that ensured children arrived to and from school safely. Prior to my role as Zone Operations Manager, I was the Energy Guard Sales Manager at Michelin North America. My strengths include growing sales revenue, incubating new business sectors, and building strong client relationships.
Q: What's your favorite show, who's your favorite character, and why?
A: My favorite show is Chicago PD. My favorite character from the show is Hank Voight. To me, Hank is the personification of leadership. He values teamwork, loyalty, doing the right thing, and he never falls to politics.
Q: What's your favorite book?
A: My favorite book is Kill 'Em And Leave: Searching For James Brown And The American Soul by James McBride, it is an incredible read!

Q: What TV or movie character do you see yourself as?
A: I see myself as Robert August from The Endless Summer.
Q: If you could choose anyone, who would you pick as your mentor?
A: If I could choose anyone to be my mentor, I would choose my grandfather. He is no longer with us, but I would have loved to have had him as my mentor.  He was a great salesperson but he passed when I was in elementary school so it would have been amazing to have him as a resource in my professional life.
Q: What are your hobbies? 
A: My hobbies are surfing, running, lifting weights, paddle boarding, and mountain biking.
Q: What are three words that best describe you? 
A: Making a difference. 
Q: What's your favorite part of your job and why?
A: My favorite part of my job is partnering with customers to find out where our programs can help them be safer while increasing their revenue.  
Q: What do you like to do in your free time?
A: I enjoy spending time with my family, being on the beach, chasing my golden retrievers, and working on my Jeep and Raptor.
Q: How are you ensuring work safety? 
A: In order to be safe I have to work on myself first so I exercise regularly, always have access to PPE and keep a first aid kit in my truck.
Q: What's something people may not know about you?
A: People may not know I was pre-law in college but chose sales instead.  
Q: What type of peanut butter do you prefer? Crunchy or Creamy? 
A: I prefer crunchy fresh honey roasted peanut butter. 
To learn more about the Star Breakdown Service team, or services we offer, stay tuned on our blog or click the buttons below.