Blog | Breakdown Service | Spotlights | Star Leasing
Shift Lead Cassi Walker has been with Star Breakdown Service (SBS) for almost 18 months. Cassi began her journey at SBS as an Incident Coordinator and has worked her way up to her current role. As Shift lead, she provides support to our Incident Coordinators, assists in major breakdown cases, and helps to implement new processes.
While Cassi has only been with SBS for under two years, her introduction into the transportation industry was about six years ago when she began working at a warehouse managing package deliveries and receipts. Shortly after, Cassi started working for a significant transportation and logistics services provider, where she helped manage trailer fleet maintenance—helping to ensure they always stayed compliant. Along with her industry experience, Cassi is currently pursuing a Bachelor's degree in Supply Chain and Management Information Systems (MIS). She is expected to graduate in December 2020.
When she's not at SBS, Cassi enjoys spending time with her three kids and husband. She also enjoys reading, nature, and just relaxing—whenever she has the chance!
With her team player mentality, wealth of experience and keen initiatives, we are lucky that Cassi is part of the SBS family. Keep reading to learn more about her.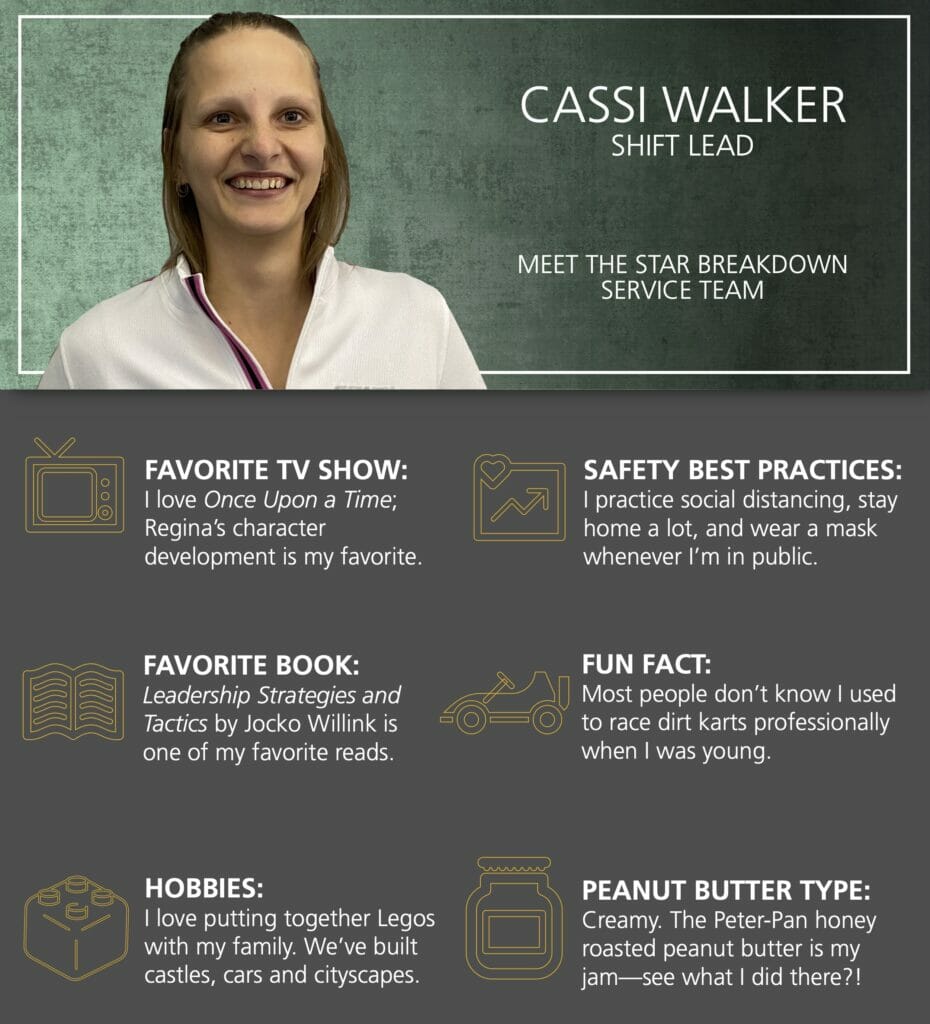 Q: How long have you been working at Star Breakdown Service (SBS)? 
A: I've been working at Star Breakdown Service for about a year and a half but I possess over six years of industry experience. 
Q: What's your favorite show?
A: I don't have a lot of time to watch t.v. so my husband and I usually put on mindless shows like Rick And Morty, American Dad, and Family Guy when we're going to sleep. Shows I really enjoyed watching were Game of Thrones, Making a Murderer and Once Upon a Time—Regina's character and its development in the show is fantastic. 
Q: What's your favorite book?
A: I can't choose "THE" favorite book because I love to read! With that said, I'm currently reading two different books, Leadership Strategies and Tactics by Jocko Willink—which is quickly becoming one of my top three books—and Necessary Endings by Dr. Henry Cloud. If I don't have time to stop and read, I like listening to audiobooks. Lately, I've been listening to Destined by P.C Cast.
Q: What are your hobbies? 
A: Ha, hobbies? With three young kids? That's funny. I have an eight-year-old, a five-year-old, and a six-month-old. I also work and go to school full-time, so I really don't have time to pick up any hobbies besides reading. I spend the time I do have with my family, so our "hobby" together is to build with Legos. My husband and I have built a few cityscapes and dinosaur fossils with the kids. I've also built the Ferrari F40 model, a ship in a bottle, both Disney Castles, and Harry Potter's Hogwarts castle with the kids' supervision.
Q: What are three words that best describe you? 
A: I would describe myself as stubborn, selfless, and hardworking
Q: What's your favorite part of your job?
A: My favorite part of my job is working with people in the industry. They're unique. I love working with vendors, customers and my teammates. I also love that in my job, I am constantly learning.
Q: How are you ensuring work safety? 
A: I'm ensuring work safety by practicing social distancing, staying home a lot and wearing a mask whenever I'm in public.
Q: What's something people may not know about you?
A: Most people don't know I love puns and "dad jokes," and that I'm a Disney fan. Another thing people don't know about me is that I used to race dirt karts professionally from when I was eight-years-old until I was 19. These karts go up to 95mph down a quarter-mile stretch and are only about 1/4 inches off the ground. 
Q: What do you like to do in your free time?
A: In my spare time I enjoy spending time with my kids, reading, building Legos, and solving puzzles.
 Q: What type of peanut butter do you prefer? Crunchy or Creamy? 
A: I've never had crunchy peanut butter, so by process of elimination I'm going to have to go with creamy on this one. The Peter-Pan honey roasted peanut butter is the jam—see what I did there?
To learn more about the Star Breakdown Service team, or services we offer, stay tuned on our blog or click the buttons below.